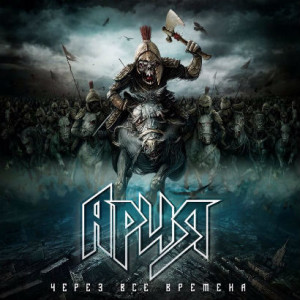 Aria - Through All Times (2014)
Reviewed by Sebastian Kluth
Ария (Aria) is a criminally underestimated heavy metal band from Moscow that has the same reputation in Russia as Iron Maiden and the likes have worldwide. The band deserves this sort of recognition, as Aria has been around since 1985 when playing this kind of Western music was still officially frowned upon by the Soviet Union. Aria broke the ice by being a pioneer band of that genre. Coincidentally, a certain Mikhail Gorbachev became the leader of the Soviet Union in the same year, and would successively introduce important changes leading to the end of the Cold War six years later.
Twenty-nine years, eleven studio albums, ten compilation records, and seven live releases after its foundation, Aria is still the most important heavy metal band in its home country. Recently, the band has opened toward the international market and has toured in Germany in 2012 and even in Canada and the United States of America in 2013. Collaborations with Danish brewery Faxe and American motorcycle manufacturer Harley Davidson have also helped in spreading the name of the band. If you care for traditional heavy metal music, then you have no excuse for not knowing most of Aria's albums as essential classics. Three years ago, Aria changed vocalists and introduced the young and talented singer Mikhail Zhitnyakov to the band. Since then, the band has released the strong studio albumФеникс (Phoenix), its first in more than five years, the incredible Live In Studio release, and the majestic live album В жёлтом круге арен (In The Yellow Circle Arena), which is probably the band's best live record ever. Aria seems to be rejuvenated, and has been quite active over the past few years. It's no surprise then that the band has already come around with a new studio album entitledЧерез все времена (Through All Times).
Aria has always been faithful to the traditional hard rock and heavy metal sound without sounding repetitive, uninspired, or outdated. When other bands tried to experiment with groove, industrial, or progressive metal, Aria had always held the heavy metal banner high. Still, the band doesn't sound like one of those juvenile revivalist bands that tries deperately to sound "old school". The crystal clear production of the new record fits modern standards in a positive way. The lyrics here and there are inspired by contemporary books, movies, and television series. In a few moments, there are even a few modern sounds in the form of symphonic keyboard sounds, but these are always decently placed in the background. They only become obvious in the opening of "Город" ("City"), where one could even describe them as eerie lounge sounds that slowly introduce a mellow, melancholic, and hypnotizing heavy metal track with a softly sung but memorable chorus cracking the seven-minute mark. It's the kind of traditional heavy metal song with a slightly experimental touch that could also have come from one of the last four Iron Maiden records.
"Блики солнца на воде" ("Glare At The Sun") is another of these more experimental songs. It opens with slow guitar riffs that almost sound like a country rock song or the score of a western. The verses are slow and sound really cool, while the pre-chorus and chorus are heavier and feature thick guitar sounds and high vocals. This "country metal" song meets a slow atmospheric middle section with galloping bass guitar and drums before the guitar solo leads back to the powerful chorus. While the song has obvious traditional heavy metal elements, it sounds like nothing I have ever heard before because of its hard rock and country influences, which I think give it a very cool and almost cinematic mood. I can envision a gunslinger riding through the wasteland and coming to a town in the Wild West while listening to this song.
Iron Maiden has always been an obvious reference for this band. In the beginning, Aria almost copied passages from that group's classic records, but as time has passed, this worship has turned into a less obvious and more creative inspiration. While Iron Maiden tends to write overlong tracks with pointless soloing nowadays, Aria still manages to write consistent, enthralling, and precise short to mid-length songs with lengths between four and a half and seven and a half minutes. The opening title song Через все времена" ("Through All Times") has everything a heavy metal fan can ask for: a charismatic and dominating bass guitar line, powerful staccato-drumming, and aggressive and impulsive riffs that meet breaks with mid-tempo twin-guitar harmonies and solos. The whole thing is crowned by vocals that find the right balance between grounded power and a few enthusiastically sung higher notes. This track is a strong candidate for the best heavy metal song of the year.
The rest of the album is good average heavy metal that doesn't disappoint, but it can't keep up with the explosive opening trio. Most songs sound like standard heavy metal tracks, but in Aria's case we are still talking about a high standard. The band keeps on varying its approach, as we can see on the laid-back and plodding ballad "Точка невозврата" ("Point Of No Return") (which isn't really my cup of tea), the slow-paced and eerie epic "Зов бездны" ("Call Of The Deep") (which is maybe a little bit too tame and long for its own good), and the short stomper "Ангелы неба" ("The Angels Of Heaven"), which sounds like a slower and more atmospheric version of Iron Maiden's "Two Minutes To Midnight".
In the end, what we have is a below average Aria album, an above average traditional heavy metal release, and probably the best traditional heavy metal album of the year 2014, all at the same time. Aria keeps a dying genre alive, and they do it with a diverse song writing approach without losing the genre's clear guiding line, a solid dose of honest enthusiasm, and a rejuvenated sound in terms of production, keyboard layers, and vocals. Fans of the band should be satisfied with this record, while new fans could start off better with the Live In Studio effort that will blow you away.
3.5 // 5