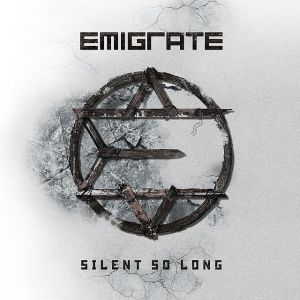 Emigrate - Silent So Long (2014)
Reviewed by Sebastian Kluth
Richard Zven Kruspe and his side project have been silent so long indeed. After the energizing self-titled industrial metal debut of 2007, where the guitarist of Rammstein fame gathered several international musicians around him and performed vocals in English to genre hits such as "My World", "New York City", and "Temptation", the German artist concentrated on his main band again and has only finally released the perfectly entitled follow-up seven years later. Those who liked the debut and who have a weakness for industrial rock and metal or the German Neue Deutsche Härte scene should grab this sophomore effort without any hesitation. This record once again unites German vibes and American soul crafted by a man who lives in both worlds.
What's new? First of all, this record includes a high number of guest singers compared to the first output, which only featured a few additional backing vocalists. The choice of guest vocalists is very eclectic. One gets to hear the raw organ of the legendary Lemmy Kilmister from Motörhead, the hypnotizing and weird vocals of Jonathan Davis from nu metal legends Korn, and the uneasy and emotionally charged performance of shock rocker Marilyn Manson among the more famous guest musicians. The list is completed with Frank Dellé from German dancehall and reggae fusion band Seeed, female synthpunk artist Peaches from Canada and French punk bassist and singer Margaux Bossieux, who is having some kind of an on-off relationship with Richard Zven Kruspe.
Especially the lesser known guests deliver on this output. My personal highlight is the airy and lascivious performance by Peaches in the trip hop and electroclash track "Get Down". The song starts with minimalistic electronic beats and gets slowly heavier until the instrumental work erupts in an almost punk-infused finale. Richard Z. Kruspe also sounds easygoing and seductive and complements Peaches' attitude and performance perfectly. It's the most unusual song on the entire record but also the most fitting collaboration.
The regular tracks without guest performances don't fall short whatsoever, and can generally mess with the big names on this output. My personal highlight, "Rainbow", is one of the catchiest tunes here, and a strong single candidate with harmonious melodies, romantic lyrics, and a simple but effective chorus. Musically, this song makes me think of new wave music from the eighties and nineties in the key of the highly recommendable Phillip Boa & The Voodoocult. As usual, the more experimental songs that move away from standard industrial metal boundaries are the true highlights for me.
Fear not, dear Emigrate fans. The band still proves its capacity to write sweating industrial rock anthems, like the strong opener and first single "Eat You Alive", which comes around with thunderous riffs, an addicting chorus, and an unusual bridge with Frank Dellé's weird yowling vocals. This song has plenty of power and makes me sad that Richard Zven Kruspe doesn't want to play any Emigrate concerts. I'm sure the band would be a powerful, simplified alternative to the meticulously arranged circus show that Rammstein is putting up nowadays.
In the end, this record is just as great as the debut album, and was worth the long waiting time. The different collaborations add a lot of novelty and spice to the electronically charged industrial brew, but Emigrate can also convincingly rock out on its own. While Rammstein is scheduled to release two concert DVDs this year (but no new studio album yet), fans should check out this output which is lyrically different but musically comparable. Even those who don't mind Rammstein can listen to this release if they want an open-minded mixture of electronic and metal music that rocks out without any boundaries.
4.0 // 5