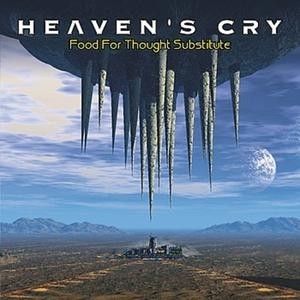 Heaven's Cry-Food For Thought Substitute (1996)
Reviewed by Sebastian Kluth
It was by lucky coincidence that I stumbled over the progressive metal band Heaven's Cry from Montreal while looking for music of new or unknown bands in a record store recently. The band's name, as well as the cover artwork of their first two records, immediately appealed to me. I gave the records a few spins at the store and decided to buy one first, and the other one only two days later.
When I talk about progression, there are two sides of the band. The first is driven by heavy riffs, rather abrupt rhythm sections, technical song writing, and grounded, powerful vocals. This side of the band reminds me of Voivod from time to time. I guess this is not by pure coincidence, because both bands come from the same province and Heaven's Cry main song writer, guitar player, and lead singer Pierre St-Jean plays bass guitar on Voivod's The Outer Limits, as well as the tour that followed the release.
The second side of the band's progressive nature is much more epic. It's also warmer, and a great counterpart to the first style. These passages are driven by progressive rock, and remind me of Pendragon or Spock's Beard, for example. The ballads are not a far cry from the calmer tracks from Dream Theater and even Queensrÿche. The mixture of both styles and the fact that the band homogenously switches between both by offering fluid transitions and catchy hooks makes Heaven's Cry a very unique band in my mind.
The record starts with a few heavier tracks. The catchy opener "Your God's Crime" convinces with great technical skills, a catchy chorus, and intriguing lyrics that criticize a few things in society such as financial power abuse and governmental control that have remained relevant until today. The catchy and even more progressive grower "Face" has similar strengths, but features more philosophical lyrics about the essence of facing reality and living your lives.
The warmer and more laid back tracks slowly start to appear with "The Alchemist", which opens with acoustic guitars, laid back clean vocals, and a few atmospheric background noises. When the electric guitars set in, they are very melodic and of a progressive power metal vibe. The track goes even further, including a few heavier parts and some incredible bass guitar work. This song can maybe be described as the band's most complete and diversified track on the entire album. This is the evident highlight here, but it definitely requires some concentration to grow on you. Another track of similar quality comes along with the catchy "Gaia's Judgement", which carries a dreamy vibe and features some soft symphonic keyboard samples that enhance that atmosphere. The longest track on the album, "The Horde", is also a rather calm progressive track with a warm atmosphere wherein all instruments have their place and time to shine.
The band includes a few more challenging tracks on the record that need some time to work themselves in (such as the very detailed "March"), but most of the songs open up after the first few tries. What we have here is a creative and technically sophisticated (but not overly complicated or overwhelming) release that will certainly appeal to die-hard progressive rock and metal fans. Food For Thought Substitute is a perfect album title in two senses, because the lyrics will make you think about certain things while the music leads you into a world of magic. The small province of Quebec turns more and more into a cradle of innovating progressive metal bands, and I still discover loads of intriguing bands each year I live here. Fans of creative rock and metal music should come around to this high quality debut, and be assured that the next release is even better!
4.5 // 5

September 4, 2013 in Reviews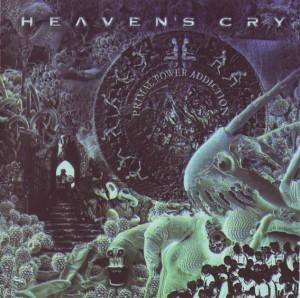 Heaven's Cry - Primal Power Addiction (2002)
Reviewed by Sebastian Kluth
Six years after the strong debut Food For Thought Substitute, Heaven's Cry is back with the promisingly titled Primal Power Addiction. Both records have been re-released in 2013, and are even available as a bundle. The new version of the second release features a slightly revised track list, for example. The six years were definitely worth the wait, as this second release manages to beat out the first. While the debut contained more metal-oriented tracks, a rather epic feeling, and a couple of longer songs, the second strike includes a bunch of shorter songs with tight song writing, and without any unnecessary lengths. These tracks hit faster and are even catchier than the previous songs. While a few are even heavier than the tracks on the debut release, Primal Power Addiction is overall even calmer and more progressive than its predecessor.
Just as the first record did, Primal Power Addiction opens with the hardest song on the album. On the re-release, the band decided to place the energizing "Komma" in the first position instead of the calmer and progressive "2k Awe Tick". This was definitely the right decision, as it opens the album with a bang and takes no prisoners. The band also switched a couple of other tracks out, and the new version of the record turns out sounding much more coherent and fluid than before. "Komma" should take the metal fans by storm with its almost thrashy riffs, progressive breaks, and oriental guitar sounds that add an exotic touch to the opener and serve as a guiding line throughout this diversified and passionate outburst. Even the vocals have become much more versatile than before. This kind of track should please fans of bands such as Voivod for sure. The influence of Quebec's most important metal band becomes even more evident on the highly imaginative "Waves". The abrupt and mechanical (but still surprisingly catchy) opening riff could have come straight come from their late guitarist Denis "Piggy" d'Amour. The faster middle part of "A Higher Moral Ground" brilliantly meanders from progressive, thrash metal-driven riffs to more melodic power metal influences, and then back to hectic but refreshingly straight progressive metal passages. This is also comparable to some works of Voivod, but surpasses rather than copying them.
Overall however, the record has become calmer and is mostly driven by a dreamy, floating, seventies' or eighties' progressive rock atmosphere. The vivid "Masterdom's Profit" and the catchy "A New Paradigm" are, for example, not a far cry from projects like Ayreon (with its spacey keyboard sounds), or a retro atmosphere reminding me of more traditional progressive rock bands like Yes (without sounding too old fashioned). The bass guitar driven "Divisions", with its cinematic introduction, the slow paced but very emotionally sung "Remembrance", and especially the dark "One Of Twenty-Four", with its exotic and progressive acoustic and electric guitar work, are three tracks that represent the logical progression of the band's sound, and can easily be described as three, almost equally great, smooth progressive rock or metal masterpieces. "The Inner Stream Remains" impresses me even more, as it features a great laid back drum track, peacefully pumping bass guitar lines, harmonious acoustic guitars, and decent keyboards. The emotional vocals really make this song stand out. This track is like the best Queensrÿche ballad that that band never wrote.
The cherry on the cake is the absolutely outstanding cover of the popular "Beds Are Burning", by Australian rock stars Midnight Oil (which is one of my favorite commercial rock songs ever). The original track is great, but Heaven's Cry has managed to do what only a few bands could. They've made an excellent song perfect. They kept all the important elements of the catchy original track and added some of their own trademarks to it. Let's cite the powerful and dominating bass play that starts the track with a little surprise, and add the shimmering acoustic guitar sounds that fit perfectly to the track. The riffs have become straighter and the drum play tighter, but they are not too far away from the successful original recipe. The vocals are powerful as well, and the song doesn't even sounds as if it was from a different band. When I bought this record, I listened to this track at least twenty times in the first two days. The song never let me go, and I consider this to be the best cover of a song I've ever heard.
In the end, this record has no fillers and is full of creativity that will grow and grow on you. As I simply can't find anything negative about this release, I'm ready to do something I rarely do and give the perfect rating to this haunting and imaginative album. You definitely shouldn't miss this progressive rock and metal masterpiece, and expand your horizons with these underground progressive heroes.
5 // 5

September 11, 2013 in Reviews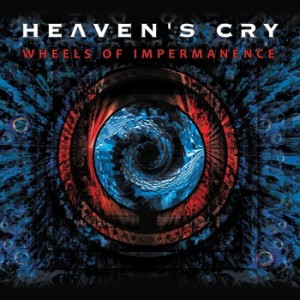 Heaven's Cry-Wheels Of Impermanence (2012)
Reviewed by Sebastian Kluth
Eight years after its previous output, Montreal's progressive metal act Heaven's Cry comes around with its third full length release entitled Wheels Of Impermanence. In comparison to Food For Thought Substitute, which opened up to me after only two spins, and Primal Power Addiction, which immediately hit me like a train and has become one of my all time favorite progressive metal records, the band's third output is more sophisticated and definitely harder to digest.
Most of the band's trademarks, such as the vivid bass guitar play, the powerhouse drumming, and the quite unique and perfectly imperfect vocals are still present, and quite convincing at that. While the guitar riffs are still good, and probably heavier than before, I miss some of the great harmonies and charming melodies that made the first two outputs so special. Let's also add that this record lacks catchy hooks and more commercial tracks like "Your God's Crime", "A New Paradigm", or the exceptional Midnight Oil cover "Beds Are Burning" have been present on the band's past releases.
This is especially why the songs with additional instruments are more convincing this time around, and help add some diversity to the mix. The piano work in "The Hollow" makes the dynamic song special, and reminds a little bit of modern Dream Theater. This song also includes what is probably the record's best guitar solo. The dreamy and epic chants and the soft keyboard layers in the title track "Wheels Of Impermanence" are stunning, and contain everything I expect from a great progressive metal song. "Consequence" includes saxophone parts that add a colorful note and make this piece of music really stand out. Amorphis has already proven how great saxophones can fit to progressive metal music in their masterpiece "Alone", and even if Heaven's Cry doesn't quite reach that level, they pull together a very decent song here.
The other songs aren't bad per se, but they rush by without any truly memorable passages. Even after four or five spins, the songs are nice to listen to, but fail to impress or even grow on me. This is still a very good progressive metal album, but definitely the weakest release of the band's so far. Heaven's Cry fans should get this album anyway, but occasional fans should stick to the first two outputs. The band is working on a fourth album which hopefully won't wait to be released until 2020. I remain curious to hear and see what they will do next.
3.5 // 5
Heaven's Cry – Outcast
November 22, 2016 in Reviews by Sebastian Kluth
Heaven's Cry – Outcast (2016)
Reviewed by Sebastian Kluth
Since Heaven's Cry's comeback five years ago, the band's sound has progressively become more complex, heavy, and intellectual. While the first two records included ten or eleven catchy, compact, and melodic tracks with a total running time around fifty minutes, the third album featured even shorter compositions, but with more sophisticated songwriting that sometimes sounded too complicated for the group's own good. This new release goes one step further. While it still has a running time of over fifty minutes, Outcastonly features seven tracks, including one tune of more than fourteen minutes, subdivided into four parts. Even though the songs are the most complex the band has ever written, the group manages to build these tracks around some catchy vocal lines, memorable guitar harmonies, and powerful riffs, making the album easier to digest than the previous output.
The opening tune "The Human Factor" represents rather well what Heaven's Cry stands for these days. It opens with eerie sound effects and complex guitar work before dual vocal harmonies give the listener the occasion to grasp at something structured. Pierre St. Jean's raw, psychedelic, and low vocals harmonize very well with Sylvain Auclair's uplifting higher range.The song constantly shifts and changes from psychedelic breaks with echoing sound effects to powerful parts with truly gripping riffs, and also includes excerpts from an intellectually challenging speech by American philosopher Noam Chomsky. Throughout, it's the vocal harmonies that hold this complex opener together. The vocals make the listener revisit this song and with each spin, other stunning details stand out, such as the space rock keyboard and some extraordinary bass guitar play. In my opinion, Heaven's Cry puts more creativity into this single song than Dream Theater did into its entire last double album. It takes a few spins to realize the entire potential of this tune, but it's worth accepting this lengthy challenge to fully discover and embrace one of the very best progressive metal tunes in recent memory.
Some of the other songs are equally outstanding. Title track "Outcast" is probably the heaviest track that the band has ever written. The tinny drum sound, rapid guitar riffs, and bumblebee bass guitar sounds in the closing instrumental section recall several progressive death metal bands. Despite its complex heaviness, this song is held together by the guiding line of a memorable bass guitar groove that is incredibly well executed. "Symmetry" has a calmer approach with more fragile vocals, acoustic guitar harmonies, a few electronic influences, and more dominant bass work that convinces with its diversity. I would call this song the hidden gem of this great album. The almost relaxing "A Shift in Scenery", with its hypnotizing guitar and vocal melody leading up to a powerful chorus feels like a relief from all these complex tunes, and is probably the most accessible song on this release.
Even though some tracks open up to the listener after multiple spins, this record's epic (entitled "The Day the System Failed')' is a really tricky challenge with its unusual rhythms, diverse phases without any coherent transitions, and vocals that focus on telling an important message rather than on striking melody. There are some parts of the song that are very atmospheric and include brilliant ideas, while other passages feel completely incompatible or overloaded. This complicated song truly evokes mixed feelings and is ultimately slightly disappointing.
In the end, Heaven's Cry has completed the sacrifice of its lighter, melodic early releases for a grittier tone and a focus on more philosophic topics. Even though I preferred the band's initial style and sound a little, Outcast is an incredibly creative, diverse, and meaningful record that any progressive metal fan should have in his or her collection. The new songs are hard to digest in concert if the sound isn't perfect, because each track is very complex and detailed, but it's a pleasure to dive headfirst into this intellectual record with your headphones on.
4.0 // 5