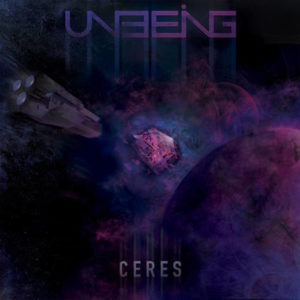 Unbeing – Ceres (2016)
Reviewed by Sebastian Kluth
They have done it again! I didn't expect this band to be able to beat its amazing previous output, but they did, and it wasn't even a close call! Unbeing delivers a progressive metal EP that could revolutionize an entire genre. This is more than simple music, it's a cinematic experience for your ears, heart, and soul. Cerestells a mysterious and haunting science-fiction horror story that is intense from start to finish. If you like movies like Alien or video games like Soma, then this record was made for people like you! The plot unfolds in the massive title track, but those who don't care about the story also get six different instrumental sections of the title song as separate tracks without the dialogue. This is an interesting alternative, but the story is certainly the most important part. Let me tell you that it's not always chronologically and fully told, and it's up to the listeners to put some of the pieces together, which makes this record an intellectually challenging experience in a very unique manner. I might suggest that you put your headphones on, get the beautifully crafted digital storyboard ready, dim the lights, and experience the title track right away in its entirety without any pauses or disturbances.
You might say that conceptual science fiction stories are nothing new in the genre, since Ayreon has released numerous records of this kind, but Ceres is still absolutely unique. First of all, this intense story is told in twenty-nine compact minutes and isn't stretched into a double-album of around two and a half hours. Secondly, the title song is composed of six intense, atmospheric tracks connected with a few samples from the NASA archives and some spoken dialog from the different characters as the story slowly unfolds. The samples and dialog sound incredibly authentic – as if you were living the events in a space shuttle – and there are no distracting guest musicians or singers featured here. Thirdly, the plot and the atmosphere that it builds up are the pure essence of this release. The music actually serves the story. You get dramatic riffs, pumping bass guitar sounds, vivid drum passages, floating keyboard sounds and spacey guitar melodies. What you don't get are useless distractions such as pretentious chapman stick sounds, endless guitar solos, pointless symphonic bombast, theatrical choirs, and unrelated attempts at pseudo-folk sections. Unbeing still plays great music, but what matters is the listening experience as a whole. This is why I can't and won't recommend any particular passages.
As I said before, I believe this record to be a revolution of progressive music. It's a milestone many people won't have the chance to witness in their lives because Unbeing is an overlooked underground act here in Quebec. This is your chance to be one of the few to actually get to hear this monolith of majesty. Go to the website of the band, download this album, and enjoy. If you like what you hear, spread the word about this unknown genius. If you ignore this review, you will at the very least have missed out on one of the most novel experiences in progressive metal.
5 // 5