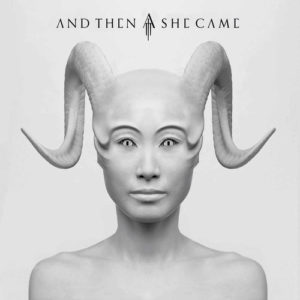 And Then She Came – And Then She Came (2016)
Reviewed by Sebastian Kluth
Krypteria was a gothic metal band from my home region of Germany, and enjoyed commercial success in Asia, Europe, and South America. The group started as a musical project based upon classical and new age fusion, and steadily gained a regular line-up and a heavier sound over the years. After five studio albums, numerous singles, and tours around the world, the band went on indefinite hiatus four years ago when singer Cho Ji-In, daughter of South Korean immigrants from my hometown of Leverkusen, got pregnant with her first child. Some of the musicians got involved in other projects during this break, and bassist Frank Stumvoll was asked to compose the soundtrack for the German-American thriller Bad Trip. Instead of taking on this task all by himself, he brought in long-time allies S.C. Kuschnerus on drums and Olli Singer on guitars. What started as a film soundtrack project became a whole new band when Cho Ji-In rejoined the trio and the quartet recorded its self-titled debut album And Then She Came, which was released earlier this summer. Aside from Chris Siemons, who is still battling health issues, this is the traditional Krypteria line-up.
Why do the musicians insist that Krypteria is still on hiatus and that And The She Came is their current main group? The reasons become obvious once you listen to this record. While Krypteria was a gothic metal band with a focus on symphonic structures, And Then She Came is an eclectic rock band with a modern twist, generously employing electronic samples and distorted vocal effects. While Krypteria developed its own signature style over the years, And Then She Came is an experimental band that is tough to categorize. Krypteria focused on relationship issues in most of its lyrics, while And Then She Came tackles diverse topics, including contemporary social criticism. The band members simply felt like taking risks in a fresh way without any barriers. It becomes obvious in recent interviews, as well as in the sound of the enthusiastic album itself, that the band had a lot more fun recording these songs than the last Krypteria album. The group seems to have discovered its own Fountain of Youth with this new band. But just like the behavior of a teenager during puberty, this record is both energetic and immature. The final result is a diverse, entertaining effort that is nevertheless very hit-or-miss and lacks coherency.
On a positive note, the band really sells itself well on its more commercial tracks, which focus on addictive choruses, catchy guitar melodies, and electronic samples. These could easily get some radio play between Evanescence and Lacuna Coil tracks. I guess this kind of sound would have had even more success when this type of music was really in vogue about a decade ago. Even nowadays, songs like "Why So Serious!" and "Hellfire Halo" work very well by being concise (around three and a half to four minutes) and grabbing your attention with hooky choruses where the singer shows off her undeniable vocal skills.
Then, we have the more experimental tunes, which I have more difficulty in appreciating. Let's take "Public Enemy Number One" as an example. This song is dominated by simple modern hard rock "riffs" leading into a powerful yet predictable chorus in the key of modern alternative rock bands such as Billy Talent. However, the group adds hysterically expressive vocal parts sung in French, German, and Spanish in the verses that remind me of eccentric German punk icon Nina Hagen. The verses are supported by repetitive electronic gimmickry and repulsive vocal sound effects recalling the trashier songs of Rob Zombie. This genre potpourri tastes strange and unpleasant.
Several otherwise solid songs are actually harmed by sudden experiments that just don't work out. "Like A Hurricane" is most exemplary for this recurring problem. It starts like one of the record's heavier tracks with sinister electronic samples, fast chugging riffs, and a passionate vocal performance leading into an epic chorus recalling the sound of Krypteria (for once). Everything's above average until the middle section comes around with another dose of exchangeable and inappropriate alternative rock riffs. Then, mildly amusing male growls that sound as if the singer was vomiting on the microphone kick in. Those harsh vocals are interrupted by spoken word passages in French performed by the main singer. After thirty seconds, this weird bridge is over, and the song continues as if nothing had happened and this passage had only been a strange nightmare. What's the point?
To spice things up, this album features two guests. Arch Enemy's new vocalist Alissa White-Gluz performs growls and manages to ruin an otherwise atmospherically consistent opener called "Five Billion Lies". Evanescence bassist Jen Matura shows off her skills in the mixed bag "Spit It Out", which needs a few spins to open up. While I was expecting a longer and more spectacular section for Matura to stand out, she does a solid job on a solid tune. It feels to me as if these guests were only invited for attention-grabbing name-dropping and a stereotypical feminist power image, due to their lack of any real musical contribution. The growls in "Five Billion Lies" could have been performed by the same vocalist that ruined "Like A Hurricane", and Frank Stumvoll is talented enough to play the same type of bass solo as the one in "Spit It Out", if we're being honest.
Though this slightly metalized alt-rock record is extremely hit and miss, it's diverse, dynamic, and original enough to perhaps grab your attention and eventually grow on you. If you are able to pardon inconsistency in the song writing department for some entertaining experiments, And Then She Came is worth a try. Krypteria fans should be very careful, since this record doesn't have anything to do with the group's symphonic metal sound. Probably a candidate for the musical oddball of the year.
2.75 // 5