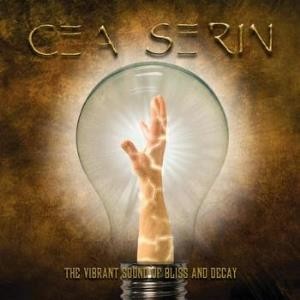 Cea Serin - The Vibrant Sound of Bliss and Decay (2014)
Reviewed by Sebastian Kluth
Cea Serin is a criminally unknown and underrated American progressive metal band that just released its second full length album, The Vibrant Sound Of Bliss And Decay, ten years after its first ouput entitled …Where Memories Combine. Along with underrated American progressive metal veterans Leviathan, Cea Serin has managed to deliver a progressive metal highlight for the year. Ever since I listened to the entire release for the first time, I haven't been able to stop listening to this album over and over again.
The band from Baton Rouge, Louisiana opens its new release with the straight and technical "Holy Mother", which surprises with heavy riffs instead of a lengthy introduction. The vocals are a little bit hard to digest in the beginning, as they have an angry tone before the second vocalist adds a smoother touch. While the rougher vocals remind me of Iced Earth, the more cleaner parts remind me of a band like Edguy. Both singers contribute to a gripping chorus, as the band always manages to come around with a few catchy refrains within the complex song structures. The middle part of the song takes its time to allow the different instruments to shine. I especially like the rhythmic bass guitar play and the well-used keyboard sounds. The instrumental portions make me think of the best moments from bands like Dream Theater and Symphony X in the nineties. Yes, it's that great.
Up next is "The Illumination Mask", which starts with the closing melodies of the opener and enters some futuristic keyboard sounds, as well as vocal samples that seem to be taken from an old movie. The song immediately builds up a bleak and mysterious atmosphere and is completely different from the up-tempo opener. After the gripping introduction, it evolves into a technically stunning power metal song. There are a few heavier riffs, but also a number of melodic passages on a constantly challenging technical level. The glorious chorus is everything that a power metal fan could dream of. After the chorus comes a calmer and atmospheric passage that sends shivers down my spine, and is just short enough to perfectly fit in and keep the listener's attention high. If the opening track was very good, then this song is truly excellent. If the album has a "hit", then it's this incredibly ferocious outburst. The track is only eight minutes long, but I wish it would never end.
The middle of the album is dedicated to the calm and elegant ballad "Ice". The vocals are performed with passion while the instrumental part convinces with soft jazz influences, acoustic guitars, a highly diversified stripped-down percussion section, and dreamy keyboard sounds that invite the listener to relax. This is easily the best progressive rock ballad I have heard in years. This track is pure genius, but for completely different reasons than the second.
"The Victim Cult" is a varied progressive metal song that delivers with a mixture of heavier riffs and harsher vocals on one side, and soothing vocals and passionate melodies on the other. Vocal samples and Middle Eastern folk music add more depth to an already brilliant track that truly shines in its instrumental parts, where playful percussion, vivid bass guitar, and melodic guitar solos meet.
The band ends the album with a twenty-minute long progressive rock epic entitled "What Falls Away", which opens with meaningful and melancholic piano that is soon joined by soothing string samples. The song really takes its time to calmly evolve step by step over the first five minutes. Yet more vocal samples add another atmospheric dimension to the song before the track gets a little heavier and even more emotional after the five-minute mark. Heavier riffs, guitar solos, and tight bass play and drumming meet beautifully laid-back piano and calm vocals in an outburst of emotions and images. The song continues to get a little bit heavier, darker, and more technical from an instrumental point of view after the seven-minute mark. Still, the band surprises with lounge and jazz sounds as well as with grounded female vocals here and there that lend an appeasing tone to this more vivid section. After a while the track goes back to Spanish acoustic guitar sounds and calm percussion before the futuristic keyboard solo joins in to lead the listener back to the heavier and more hectic part of the song. "What Falls Away" ends with a grand finish before looping back to its calmer opening minutes. Despite its long running time, this song never feels redundant, and should be considered a modern progressive metal milestone, just as should the entire album. The description progressive should be written in bold and capital letters to describe this closing track in particular. Let's say it this way: If Mike Oldfield was a metal musician, this would be one of the very best songs of his career. It's some kind of "Tubular Bells" or "Music from the Balkony" (from the highly underrated progressive rock masterpiece "Heaven's Open" by the way) for contemporary metal fans.
It's a pleasure to hear several outstanding bands from the American underground stealing the crown from established acts like Dream Theater these days. It's also a pleasure to support these bands and to encourage them to carry on and surpass themselves repeatedly. In my humble opinion, progressive metal fans just can't get away with not hearing Cea Serin this year. Before you forget about this record, do yourself a favour and listen to the entire album on Bandcamp.
4.75 // 5