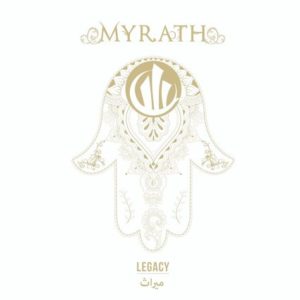 Myrath – Legacy (2016)
Reviewed by Sebastian Kluth
Tunisian progressive (power) metal quintet Myrath has completed its shift from more complex structures to much more accessible song writing with the release of Legacy. Almost all of the eleven new tracks are immediately appealing, catchy, and have the passionate North African signature sound that makes this group so unique. The band has once more increased its symphonic elements and folk influences, but most songs offer welcome experimentation. This album is both incredibly diverse and wonderfully entertaining, and comes close to the high quality songwriting standard of Orphaned Land. Let's also point out the band's admirable message of freedom, hope, and optimism that can be felt in almost every song.
After a lush orchestral overture in the form of "Jasmin", the band blows its audience away with the first single, "Believer", which is by far the band's catchiest track ever. The lyrics are positive and powerful, the melodies find the right balance between exotic energetic, and the chorus is extremely catchy and passionate. The epic background chants only add to the power of this track. This masterpiece makes the mysterious world of One Thousand and One Nights come to life like no other rock or metal song before it. The brilliant video clip is clearly influenced by the Prince of Persia video game series and fits perfectly. If you don't feel the passion of this track, you probably don't feel anything at all anymore and shouldn't bother listening to the rest of this highly emotional record [Editor's Note: Wow. No pressure].
Those who prefer the band's more technical side are immediately rewarded with "Get Your Freedom Back". In less than four minutes, this song offers more ideas than other bands put into entire albums. Technical progressive metal riffs are intertwined with airy acoustic guitar sounds that mix a dreamy fusion of Middle Eastern folk sounds and classical symphonic elements. This atmospheric brew is spiced up with a funky bass guitar solo and tribal-sounding drum patterns that blend very well. This exciting song sounds like a mixture of Heaven's Cry and Orphaned Land; and just like these two bands, Myrath manages to sound both technically appealing and passionately catchy.
The band shows its opposing side in the next two tracks. "Nobody's Lives" is the record's calmest song, and mixes relaxed melodies with melancholic tones and convinces with an enchanting chorus performed in Arabic. The distorted guitar and rhythm section take a break and let the folk elements and lulling vocals take the lead. "The Needle" has a much more sinister and dystopian tone, and comes around with intense power metal riffs and rhythmic keyboard work before the song gets much more mysterious and builds up into a passionate chorus that you won't get out of your mind.
A promising element is the way in which the band uses piano and keyboard sounds to its advantage throughout the entire album. The epic and peaceful "Through Your Eyes" becomes truly magical when its fragile and harmonious piano sounds take the lead. The confidently vintage piano sound in "Endure the Silence" serves as an unusual, yet fitting, overture and coda that immediately grabs the attention of the audience. The more progressive "Duat" rather features floating keyboard patterns that recall space metal projects like Ayreon or Star One. Traditional-sounding folk elements and futuristic sound patterns fuse perfectly on this album highlight. Another track that sound like a traditional Arabic folk tune-gone-contemporary-rock-song is the great bonus track "Other Side". Make sure to purchase the digipak version with this track that ends the album on a high note and summarizes very well what Myrath sounds like these days. A final standout song is "I Want to Die", which is clearly the record's most epic track. The Maghreb symphonic elements and soothing vocals are so dominant yet elegant that this could easily be the title track of a future James Bond movie.
This leads me to the conclusion of my review. Myrath's Legacy is the band's most diverse, emotional, and epic record to date, and never gets boring. The only negative comment I have is that the passionately vibrating vocals and the cinematic symphonic elements are sometimes overwhelming. The sound of this record is at times a little bit too theatrical, overloaded, and epic, with the traditional metal instruments (guitars, bass guitars and drums) rarely standing out and sometimes even lacking power. I hope the band will include a few heavier tunes on its next album to loosen the ambitious soundscapes from time to time and get back to the basics in a refreshing way. Apart from this detail, Legacy is a solid candidate for the top spots of the rock and metal music lists of this year's best records. Join the Maghreb metal revolution.
4.5 // 5