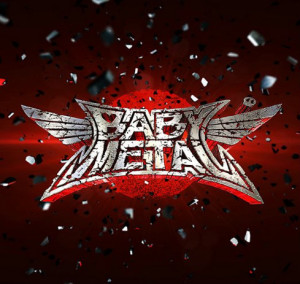 Babymetal - Babymetal (2014)
Reviewed by Sebastian Kluth
Japan is a fascinating country that has always set new artistic and technological trends that travel around the whole world. While many people were surprised to hear about Babymetal, I think it's a typically Japanese prime example for a newly constructed trend, made up by clever management. The Japanese tend to mix otherwise extreme or opposing elements (from a Western point of view), and Babymetal is such a thing. A clever management group put three more or less talented young female dancers and singers together that had already played together in popular idol groups Karen Girl's and Sakura Gakuin at a very young age. None of the three girls really knew what metal music was when they were put together. The management decided to make them dance and sing along to a weird musical potpourri that mixes death, industrial, and power metal with electronic music such as dubstep, J-Pop passages, and occasional rap elements. The high pitched voices, childish lyrics, and school girl outfits are supposed to invoke a cute and innocent image. That's why this genre is also called "kawaii metal", which means "cute metal". Personally, I don't think that these girls look particularly cute, but more like average teenagers pimped up by hair stylists and make-up experts and put in fancy clothes. Babymetal might attract younger Asian audiences that are somewhere between ten and sixteen years old, a few curious addicts of Japanese culture and trends like me, those who have recently stumbled over this band due to viral social media marketing strategies and, sadly, people with pedophiliac tendencies and perverted thoughts.
The younger lookalikes Moametal and Yuimetal in this trio are mostly just there for performing weird dances (that make me think of drunken turkeys) and occasional background vocals, childish screams, and spoken word passages. Main singer Su-metal has a good melodic voice, but is not an outstanding performer either. With some more practice and perseverance, she could maybe one day become a successor of performers such as Hamada Mari. What really makes this colourful band stand out is the over-the-top fusion of opposing music genres.
Even though the debut record of this band is obviously artificially flavoured, one must admit that the songs on here are incredibly catchy, almost exaggeratedly diversified, and everything but boring. The almost instrumental opener, "Babymetal Death", is inspired by bands such as Dark Tranquillity, Dimmu Borgir, and Slayer. "Ii ne!" sounds like a parody mixture of Crematory, Destiny's Child, and Lil' Kim; "Onedari Daisakusen" could be a weird fusion of Dir En Grey, Linkin Park, and the Spice Girls; "Catch Me If You Can" feels like a mixture of KoRn, Morbid Angel, and Pussycat Dolls; "Uki Uki Midnight" throws in some trendy Skrillex breaks; "Akumu No Rinbukyoku" reminds me of pseudo dark casting bands like Nu Pagadi; the slightly symphonic elements in "Headbanger!!" recall some Sound Horizon influences; and "Ijime, Dame, Zettai" could be a Sonata Arctica, Stratovarius, or X Japan song if the three female vocalists weren't there. In fact, almost every track on here sounds like several artists or bands that we have probably all known or at least heard of before, but that few would have ever had the courage to mix on one record. Especially "Ii ne!" and "Uki Uki Midnight" still sound surprising and shocking after more than ten spins.
The most outstanding tracks from my point of view are the upbeat "Megitsune", the weird and silly (but highly addicting) "Gimme Choco!", and the power metal driven "Ijume, Dame, Zettai". As much as I can't stand popular and predictable marketing strategies put together by many music marketers, I must admit that this release is a sort of guilty pleasure. I don't really want to like it, but I simply do, and the songs are definitely growing on me with each spin.
If you try this band out, be prepared to possibly end up adoring something you instinctively hated at first contact. No matter if you jump on the bandwagon or not, Babymetal's self-titled debut release is already one of the most curious and memorable releases of the year. Check them out at your own risk.
3,75 // 5
Babymetal – Metal Resistance
December 14, 2016 in Reviews by Sebastian Kluth
Babymetal – Metal Resistance (2016)
Reviewed by Sebastian Kluth
Many people expected Babymetal to be a short-lived hype band, a gimmicky one-album wonder, an overrated and vapid product of contemporary social media activities. All these naysayers are definitely proven wrong withMetal Resistance. The band is still alive and kicking and hasn't split up or changed line-up, as has been the case for many other idol groups. Babymetal has toured the biggest and most renowned festivals around the world, and has a more massive media presence these days than ever before. Three Japanese teenage girls and their solid backing band continue to revolutionize an entire genre (and the music business in general) by breaking down stylistic boundaries in an open-minded, juvenile, and energizing way. Babymetal has even pioneered an entirely new genre called kawaii metal, which has seen bands such as Band-Maid, Deathrabbits, Fruitpochette, Ladybaby, Tokyo Rockets, and others rise to fame in their home country over the past few years. In general, the band has also had an emancipatory impact on the awareness of female rock groups in its country. Despite the concurrence, Babymetal is still the undisputed leader of this movement, and so far the only band with a significant international market. The band's second full length output, Metal Resistance, underlines the band's massive status as role model for its genre. Even though fans of the band's first release will definitely find all the band's classic trademarks, this second album isn't a safe copy of the first, but pushes the exciting evolution of kawaii metal even further. While the eclectic, energizing, and entertaining predecessor had a carefree, chaotic, and juvenile spirit, with many hit and miss experiments that were all over the place, the second strike shows a perfectly balanced mixture between that youthful attitude and a more homogeneous, mature, and skilled artistic approach.
Metal Resistance focuses more upon metal music than the first output. Most tracks are clearly influenced by melodic power metal with a few visual kei elements, but occasional extreme metal sounds add more power at the right spots. Several songs still include influences from other genres covering electronic, folk, pop, reggae, and even swing, but these elements are much better dosed than on the predecessor, as they always add something essential to each song and are never solely for the sake experimentation. The musicianship has become more complex and technical, yet it remains catchy and focused enough to make each of the twelve new songs a potential chartbreaker. The guitar riffs and solos are more gripping than before, and the diversified rhythm section is the vivid backbone of this powerful genre. Main singer and dancer Nakamoto Suzuka sounds more versatile, mature, and elegant than two years earlier, and hers is a very welcome change compared with the high number of exchangeable operatic female singers in the metal scene. Backing vocalists Mizuno Yui and Kikuchi Moa have evolved quite a bit as well, and offer more than occasional screams, gang shouts, and dance performances this time. They still sound juvenile, of course, but they add highlight performances on this record's darkest, fastest, and heaviest tunes. Their brutally grounded energy complements the main singer's elegantly uplifting skill.
Let's take a closer look at this record's most outstanding songs in numerical order. A track that represents the evolution of the band very well is the new single "Karate". The verses are rather dark and feature gripping modern metal riffs. Backing vocalists Mizuno Yui and Kikuchi Moa still sound juvenile, but not as childish as on many tracks from the first record. Their performance adds mysterious and experimental tone to the track that fits with the floating bridge. The chorus is uplifting, powerful, and catchy, and main singer Nakamoto Suzuka hits every note in a perfect way. The balance between metal and pop elements sounds perfectly balanced, and the transitions between the harsh verses and the soft choruses sound quite coherent. Babymetal has perfected its very style from the first album, and the new songs sound much more mature and serious without losing their carefree lightness.
My favourite track on the record is the epic "Meta Taro", which features a harmonious chorus that reminds me of a national anthem with an uplifting Olympic spirit. This also seems like something that could have come from the first three Stratovarius records. As if that wasn't enough, this song also features vivid European folk elements in a refreshing way, and easily beats everything bands of that genre such as Elvenking or Eluveitie have accomplished on their last few records. Occasional male growls add some appropriate contrast to an otherwise ceremonial masterpiece.
"From Dusk Till Dawn" is an electronically driven new age song that reminds me of Enigma and Robert Miles. It builds up an enchanting and mystic atmosphere that fits in well between the heavier tracks of the album. This transitional song adds a whole new dimension to the band's sound, and is only included on album editions sold in Japan.
The improvement of backing vocalists Mizuno Yui and Kikuchi Moa can be heard primarily on "GJ!" and "Sis. Anger", where main vocalist Nakamoto Suzuka takes a break. The two younger singers are energetic in the verses, and prove that they have worked on their technical vocal skills in the more melodic choruses. These two songs are darker, faster, and heavier than most of the other tracks on the album, and invite both to dance and mosh along with them without losing their addicting catchiness. "Sis. Anger" especially is a surprise with its blastbeats, death metal riffs, and sinister atmosphere. Musically, this track could be one of the best Morbid Angel tracks of the last two decades.
"No Rain, No Rainbow" is an emotional visual kei ballad where Nakamoto Suzuka proves what a competent singer she is. This kind of song should be a welcome alternative for those who are still waiting for X Japan's first album in two decades (which has been delayed for more and less believable reasons for nearly five years in a row now). While those legends have become an overrated copy of their former selves and fail to do their jobs well (or in a timely fashion), Babymetal is already delivering, at their young age, a vivid future without forgetting about Japan's traditional metal sounds.
"Tales of the Destinies" is one of the most experimental songs in the career of the band. It's a sinister and progressive tune with incredibly skilled guitar solos, pumping bass guitar, a furious percussion performance, and vivid keyboard patterns. I find this unpredictable song to be more exciting and experimental than the entire last Dream Theater record. Even the vocal performances vary constantly and adapt perfectly to the eclectic musicianship. Despite all this frenzy, the track still comes around with a beautiful chorus that holds everything together.
The final "The One" perfectly closes the circle begin in "Road of Resistance", as both songs are rooted in European power metal. While the opener features DragonForce's Herman Li and Sam Totman, the more progressive closer is a beautiful and introspective, yet powerful anthem about the band and its supporters. This is the only track which is performed in English on the international version of the album, which is a great sign of respect from the band towards its international fans. The Japanese release features an alternate version with Japanese lyrics. While most Japanese adults struggle with pronunciation when it comes to foreign languages that are extremely different from their mother tongue, the three girls do a great job.
I could write so much more about this perfectly produced album, which is an improvement even over its outstanding predecessor, but I would simply encourage any fan of contemporary rock and metal music to give this band a fair chance without any prejudice. The only negative elements I can find about this record are the uninspired cover artwork and the disappointing booklet of the international version of this release. Join the metal revolution and buy this record!
4.75 // 5